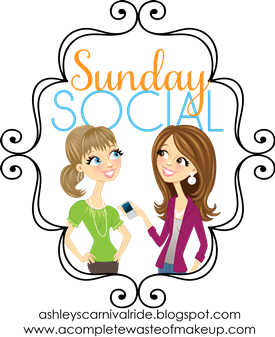 I love the Sunday Social linky as well as the blog A Complete Waste of Makeup.
Go Check her out!
Here goes this week's question's:
1. If you were stuck on an island what are the two material items you would want to have?
My Kindle Fire and Wine.
2. What are two TV shows you'd watch over and over
Vampire Diaries & Grey's Anatomy
3. If your house was on fire what two things aside from family, pets, etc would you grab?
I would probably grab my smart phone and wallet just because it's so routine for me!
Steve would probably go for all of our tech stuff.
4. What are your two most favorite articles of clothing?
Yoga pants and my look-a-like Uggs.
5. What two movies that you saw in the past year would you recommend to us?
For anyone that likes Glee, then you have to see Pitch Perfect.
And of course Breaking Dawn Part 2. The twist almost had me throwing myself out of my chair!
6. What are your two biggest guilty pleasures?
-Anything Chocolatey or Ice cream
-Romance/erotica books {Thanks 50 Shades!}