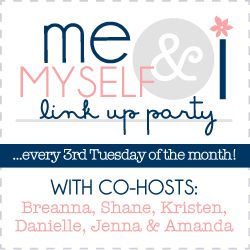 1. What is your favorite season?
My favorite season used to be Summer. But the last two Summer's have been so brutal in VA that I'm excited when everything starts to change and transform into Fall.
It also means that it's Fall Festivals time!
Being able to wear my jeans and zip up hoodies is also a perk.
2. Talk about a moment that changed your life.
I've had a little (big) run in with the law a little over six years ago. Went to jail for a short period of time, was put on house arrest for the rest of my "sentence"... lost my license for a couple years. I kept my job thankfully but lost a lot of *friends* in the process. It was seriously the worst time of my life... a lot of anger and sadness I went through. I've just imagined over the years what I could have done with my life instead.
But then I think about it and things wouldn't be the way they are now. I probably wouldn't have met my hubs or given life to the most beautiful little girl.
I hope the mistakes I made will serve purpose and help others one day. We'll just have to wait and see. ;)
3. If you could be any crayola crayon color, what would you be and why?
Fuschia! Or whatever this color is called. Cerise = Cherry.
I love pinks and fuschia. I love this in between color of purple & pink.
Of course I have to be difficult or different and pick a non basic color.
4. Describe yourself as a superhero: Superpower? Name? Sidekick?
If I were a superhero my house and everything around me would be spotless because I would be magical like that. Psychic powers and a flying ability would add to the awesome list. My name would be Supermom or something cheesy like that because I've never been good with coming up with names. My sidekick would be Wonderwoman because she's brunette and hot! Could teach me a thing or two.
5. If you had all the money in the world and could only shop at 3 stores, where would you shop?
So the babe could be happy.
So the mom could be happy.
So the dad could be happy.