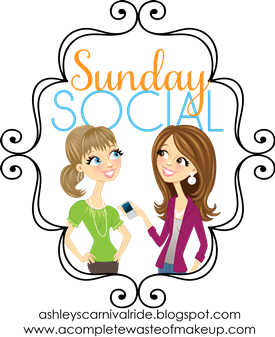 Hope everyone's having a lovely Sunday Funday!
I'll be working of course but am looking forward to my usual Monday-Thursday off hanging out with my babes.
Sunday Social is hosted by A Complete Waste of Makeup.
Check her out, loving her blog!
Questions of the Week:
1. What is the name of your blog and how did you come up with it??
I started my blog almost a year ago (next month actually AHH!) and my main focus was blogging about my upcoming wedding (that happened on March 31, 2012) and my mommy hood adventures.
Baby First = Marriage Later
The name to me I thought was a perfect fit :)
2. What do you love the most about blogging??
I love being able to share my life and photos. I have loved meeting new people... following their blogs and vice versa. It's also a healthy habit that I've added to my list. It's nice when someone asks me, "What do you do for fun?" and I actually have something to answer with.
3. What are your 2 favorite posts you've written?
AND
My very first post that I just read. Aww :)
4. What is something you'd want to tell someone just starting out in blog world?
Don't expect anything. When I started, I never thought I would have gone through with it for this long!
Just go with the flow. Keep blogging. If you don't have any ideas... find blog hops to keep you posting regularly. I don't know what bloggers did before there were blog hops? I feel like I came into this at just the right time!
5. Biggest blogging learning experience you've had?
Even though life can make me busy, I have to remember to check my comments that people leave on my posts. People have ignored me on theirs and that's not nice! I've learned that I need to stay connected to all my followers... Blogging is more than just posting.
I've also learned that Google is my friend. Even though my blog design is NOWHERE close to where I want... Googling tips and tricks has saved me from throwing my Hubs flat screen monitor across the room!
6. Give us 3 blogs we NEED to be following that you love.